Precision Machining
Ingenuity, dedication, attention to detail, communication, and a spirit of continuous improvement are the pillars of our manufacturing services. We invest strategically in state of the art technology and training to offer the finest Craftsmanship available.
Specialty Instruments and Prototype Devices
Medical Devices and Surgical Instruments
Photonics and Laser Science Hardware
Fixtures, Jigs, and Tooling
Instrumentation Chassis and Components
Laboratory and Experimentation Hardware
Space Flight and Propulsion Components
Review our Capabilities Statement available HERE in Adobe .pdf format.
Small Envelope Three and Five Axis CNC Milling
Live Tool CNC Turning from .010 to 8.0in Diameter
Micro Machining and Assembly
Tool Room Grinding – Harig and KO Lee
Micro Drilling – National Jet Micro Drilling Machine
Assembly/Kitting
Independent Inspection and Calibration
Electrical Discharge Machining (EDM)
Chemical Polishing of Engineering Plastics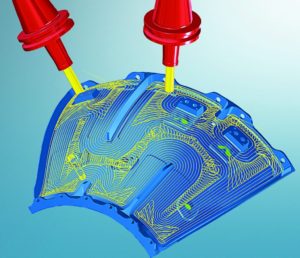 With experience performing complex machine work in tool steel, stainless steel, titanium, high nickel alloys, engineering plastics, aluminum, and machinable ceramics.
We Design in SolidWorks 2018
Solid Modeling
ASME Standards
CAE using SolidWorks Cosmos
Drafting, GD&T per ASME Y14.5
Tolerance Design
Design for Manufacturing
Design for Maintenance
Patent Drafting
Design Review